New York Author Ebony LaFon Helps Kingdom-Minded Women Achieve Their Dreams With The Ultimate Vision Board Workbook
This workbook explains the process to make a vision board accurately to achieve one's goals.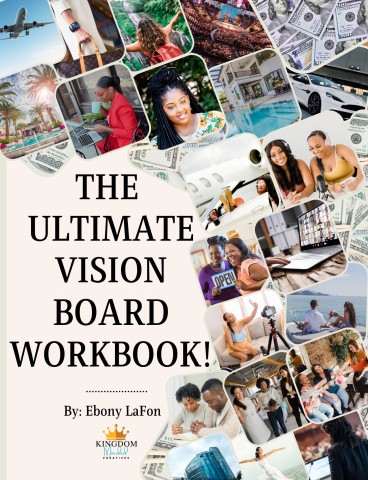 Gifted author Ebony LaFon created "The Ultimate Vision Board Workbook" as an invaluable tool for women looking for direction and purpose in achieving their dreams. Insightful writer LaFon offers a supportive and empowering approach that is thought provoking and inspirational. There is an adage that says, "Seeing is believing," and having a dream board front and center accomplishes just that.
Answers to the reader's most provocative questions are all wrapped up in a 120-page, full-color, comprehensive workbook. In this power packed rendering, Ebony shares some time-tested wisdom nuggets to get the reader on the road to success.
This workbook provides the basics of how to make a vision board correctly and branches out from there. According to the author, "In this workbook, you'll learn the foundational skill sets that help you pray for clarity and come into alignment with your goals and dreams. KJV Proverbs 29:18 states, 'Where there is no vision, the people perish: but he that keepeth the law, happy is he.'"
"The Ultimate Vision Board Workbook" keeps enthusiasts on a straight and focused journey in their quest for reaching the next profitable plateau in their lives. It is a launching pad to prepare for their ultimate God-given manifestation.
Ebony recalls, "In 2013, I felt led by God to start a business and I quickly found out how frustrating it can be starting your business with a busy life and not knowing what to do. Now I show Kingdom-Minded women how to start and launch a successful business without some of the pitfalls and headaches."
According to a report from LinkedIn, "A vision board is a powerful tool for entrepreneurs looking to achieve incredible goals in life and business in the coming year." Regardless of your current positioning, whether novice or seasoned businesswoman, "The Ultimate Vision Board Workbook" will help you tap into your fullest potential.
Scripture encourages believers in this way in Habakkuk 2:2-3, "And the Lord answered me, and said, Write the vision, and make it plain upon tables, that he may run that readeth it. 3For the vision is yet for an appointed time, but at the end it shall speak, and not lie: though it tarry, wait for it; because it will surely come, it will not tarry."
So often, people get stuck in neutral on their journey to greatness. This workbook will help women tackle unhealthy patterns that prevent them from moving to the next level. It will help keep them laser focused by fine-tuning their thoughts. Sometimes simple "mind shift changes" can act as a catalyst to reach set goals. The description used for this practical guide states that it is an instrument "to help women achieve their deepest aspirations and create the life of their dreams."
About the book:
"The Ultimate Vision Board Workbook" equips women with the skills to align their goals, effectively identify their vision and mission statement, achieve their dreams, crush their year-end goals, and achieve their financial objectives. It is a full-color workbook that offers:
– Learn how to make a vision board
– Vision Boards and pictures
– Mindset exercises
– Inspirational quotes
– Affirmations
– Manifestation checks
– Budgets
– 21-Day Planner and more
For more information, please contact Ebony LaFon at Email: [email protected]
or visit the official Website: www.ebonylafon.com
About the Author:
Ebony LaFon is a true inspiration, juggling multiple roles as a wife, mother of 6!, powerhouse serial entrepreneur, certified life coach, motivational speaker, and author. Her mission is to help women find success and balance in their lives, particularly in their entrepreneurial pursuits. By teaching her clients how to set realistic goals and develop a plan of action, Ebony empowers women to execute their long-term vision through short-term milestones. Her clients rave about her guidance and support in launching and scaling their businesses. Ebony's dedication to helping women succeed is evident in everything she does. If you're ready to make your dreams a reality, Ebony is the perfect partner to help you achieve your goals and live the life you've always dreamed of.
Media Contact
Company Name: Ebonylafon.com
Contact Person: Ebony LaFon
Email: Send Email
City: Queens
State: New York
Country: United States
Website: bonylafon.com