Achondroplasia Market is Expected to Showcase a Significant Growth During the Forecast Period (2022-2032), Predicts DelveInsight | Key Companies – Pfizer, Sanofi, ProLynx, PhaseBio, Ascendis, BioMarin
As per DelveInsight, the dynamics of the Achondroplasia market is anticipated to change in the coming years owing to the launch of novel emerging drugs, government support for clinical development, and the increasing incident population of Achondroplasia patients in the 7MM.
Several major pharma and biotech giants are persistently working towards the development of novel treatment therapies that can address the defects caused by FGFR3 gene mutation. There are several promising drugs in the pipeline, including TransCon CNP (Ascendis Pharma), Infigratinib (BridgeBio), Recifercept (Pfizer), and RBM-007 (Ribomic Inc), among others.
DelveInsight's "Achondroplasia Market Insights, Epidemiology, and Market Forecast 2032" report delivers an in-depth understanding of the disease, historical and forecasted epidemiology, as well as the Achondroplasia market size, share, trends, and growth opportunities in the seven major markets (7MM) (i.e., the United States, EU4 (Germany, Spain, Italy, France), the United Kingdom and Japan).
The Achondroplasia market report covers emerging drugs, current treatment practices, market share of individual therapies, and current & forecasted market size from 2019 to 2032. It also evaluates the current treatment practice/algorithm, key drivers & barriers impacting the market growth, and unmet medical needs to curate the best of the opportunities and assess the underlying potential of the market.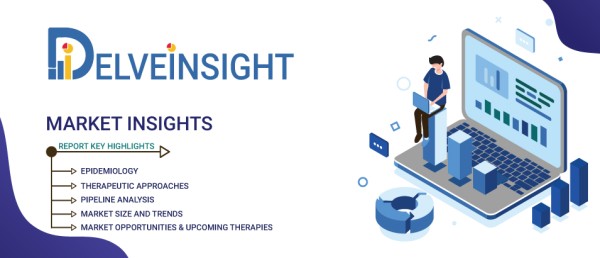 Achondroplasia: An Overview
Achondroplasia is a genetic disorder characterized by an unusually large head (macrocephaly), short upper arms (rhizomelic dwarfism), and short stature (adult height of approximately 4 feet). FGFR genetic alterations can cause more than 99% of Achondroplasia cases. In a small proportion of infants, symptoms like excessive accumulation of fluid around the brain (hydrocephalus) and low muscle tone (hypotonia) may happen as typical of achondroplasia. Acquisition of developmental motor milestones may also be delayed.
Achondroplasia results in short-limb skeletal dysplasia, occurring in approximately 1 in 20,000-30,000 live births. This genetic disorder is caused by a mutation in the fibroblast growth factor receptor 3 (FGFR3) gene, which occurs due to a spontaneous genetic mutation in approximately 80 percent of patients, and in the remaining 20 percent, it is inherited from a parent.
The current treatment landscape includes medications such as growth hormone therapy, surgery, and supportive therapy for achondroplasia. The first drug to be approved for treating achondroplasia is VOXZOGO (Vosoritide) by BioMarin Pharmaceuticals. The European Commission granted marketing authorization to VOXZOGO as a once-daily injection to treat achondroplasia in children from the age of 2 until growth plates are closed, which occurs after puberty when children reach final adult height, in August 2021. In November 2021, US FDA approved VOXZOGO, under accelerated approval pathway, and Rare Pediatric Disease Priority Review Voucher, fastening the approval timeline. Marketing authorization reviews are in process in Japan, Brazil, and Australia, with potential approvals in these countries in 2022.
Achondroplasia Market Key Facts
According to the National organization for rare disorders (NORD) the worldwide estimated incidence of achondroplasia ranges from about 1 in 15,000 to 1 in 35,000 births.

According to the American Journal of Medical Genetics, achondroplasia has an overall prevalence of 3.72 per 100,000 births and a live birth prevalence of 3.05 per 100,000 among 28 European countries.

According to a European population-based epidemiological study provided by the European Surveillance of Congenital Anomalies (EUROCAT) network research, the prevalence of achondroplasia is 3.7 per birth of 100,000 population.

According to Benjamin et al., achondroplasia is an autosomal dominant disorder; most estimates of its frequency cluster between 1:25,000 and 1:35,000 live births; however, the true frequency may be slightly higher.

According to Wigg et al., the average adult height is 131 ± 5.6 cm for males and 124 ± 5.9 cm for females. Cognitive function is normal unless hydrocephalus or other central nervous system complications occurs.
The market outlook section of the report helps to build a detailed comprehension of the historical, current and forecasted Achondroplasia market size by analyzing the impact of current and emerging pipeline therapies. It also thoroughly assesses the market drivers & barriers, unmet needs, and emerging technologies set to impact the market dynamics.
The report gives complete detail of the Achondroplasia market trend for each marketed drug and mid & late-stage pipeline therapies by evaluating their impact based on the annual cost of therapy, their Mechanism of Action (MOA), Route of Administration (ROA), molecule types, competition with other therapies, brand value, and their impact on the market.
Achondroplasia Epidemiology Assessment
The epidemiology section provides insights into the historical, current, and forecasted epidemiology trends in the seven major countries (7MM) from 2019 to 2032. It helps to recognize the causes of current and forecasted epidemiology trends by exploring numerous studies and research. The epidemiology section also provides a detailed analysis of diagnosed and prevalent patient pool, future trends, and views of key opinion leaders.
The Report Covers the Achondroplasia Epidemiology, Segmented as –
Total Prevalent Cases of Achondroplasia [2019–2032]

Age-Specific Cases of Achondroplasia [2019–2032]
Achondroplasia Drugs Uptake and Pipeline Development Activities
The drug uptake section focuses on the uptake rate of potential drugs recently launched in the Achondroplasia market or expected to be launched during the study period. The analysis covers the Achondroplasia market uptake by drugs, patient uptake by therapies, and sales of each drug. Moreover, the therapeutics assessment section helps understand the drugs with the most rapid uptake and the reasons behind the maximal use of the drugs. Additionally, it compares the drugs based on market share.
The report also covers the Achondroplasia pipeline development activities. It provides valuable insights about different therapeutic candidates in various stages and the key companies involved in developing targeted therapeutics. It also analyses recent developments such as collaborations, acquisitions, mergers, licensing patent details, and other information for emerging therapies.
Learn How the Achondroplasia Market Will Evolve and Grow by 2032 @
https://www.delveinsight.com/sample-request/achondroplasia-market
Achondroplasia Therapeutics Analysis
Several major pharma and biotech giants are developing therapies for Achondroplasia. Currently, BioMarin Pharmaceutical is leading the therapeutics market with its Achondroplasia drug candidates in the most advanced stage of clinical development.
The Leading Companies in the Achondroplasia Therapeutics Market Include:
Ascendis Pharma

BioMarin Pharmaceutical

Pfizer

PhaseBio Pharmaceuticals

ProLynx Inc

QED Therapeutics (BridgeBio)

Ribomic

Sanofi
And Many Others
Achondroplasia Emerging and Marketed Drugs Covered in the Report Include:
BMN-111: BioMarin Pharmaceutical

CNP-ELP: PhaseBio

Infigratinib: QED Therapeutics (BridgeBio)

PLX138: ProLynx Inc

Recifercept (TA 46): Pfizer

SAR442501: Sanofi

TransCon CNP: Ascendis Pharma
And Many More
The Report Covers the In-depth Assessment of the Emerging Drugs & Key Companies. Download the Sample Report to Learn More @
https://www.delveinsight.com/sample-request/achondroplasia-market
Table of Content (TOC)
1. Key Insights
2. Executive Summary
3. Achondroplasia Competitive Intelligence Analysis
4. Achondroplasia Market Overview at a Glance
5. Achondroplasia Disease Background and Overview
6. Achondroplasia Patient Journey
7. Achondroplasia Epidemiology and Patient Population (In the US, EU5, and Japan)
8. Achondroplasia Treatment Algorithm, Current Treatment, and Medical Practices
9. Achondroplasia Unmet Needs
10. Key Endpoints of Achondroplasia Treatment
11. Achondroplasia Marketed Products
12. Achondroplasia Emerging Drugs and Latest Therapeutic Advances
13. Achondroplasia Seven Major Market Analysis
14. Attribute Analysis
15. Achondroplasia Market Outlook (In US, EU5, and Japan)
16. Achondroplasia Access and Reimbursement Overview
17. KOL Views on the Achondroplasia Market
18. Achondroplasia Market Drivers
19. Achondroplasia Market Barriers
20. Appendix
21. DelveInsight Capabilities
22. Disclaimer
*The Table of Contents (TOC) is not exhaustive; the final content may vary. Refer to the sample report for the complete table of contents.
Download the Sample PDF to Learn More About the Key Offerings of the Report @
https://www.delveinsight.com/sample-request/achondroplasia-market
Take control of your healthcare portfolio with DelveInsight's comprehensive consulting services. Get in touch and discover how we can help you manage your healthcare portfolio today @ Healthcare Portfolio Management Services and Solutions
About DelveInsight
DelveInsight is a leading Business Consultant and Market Research Firm focused exclusively on life sciences. It supports pharma companies by providing comprehensive end-to-end solutions to improve their performance.
Media Contact
Company Name: DelveInsight Business Research LLP
Contact Person: Shruti Thakur
Email: Send Email
Phone: 09650213330
Address:304 S. Jones Blvd #2432
City: Las Vegas
State: NV
Country: United States
Website: https://www.delveinsight.com/