SYNC by Melady Launches Crowdfunding Campaign for Revolutionary Smart Wireless Headphones
SYNC by Melady headphones offer a versatile audio experience with noise cancellation, Android Marketplace, and up to 64GB of internal memory.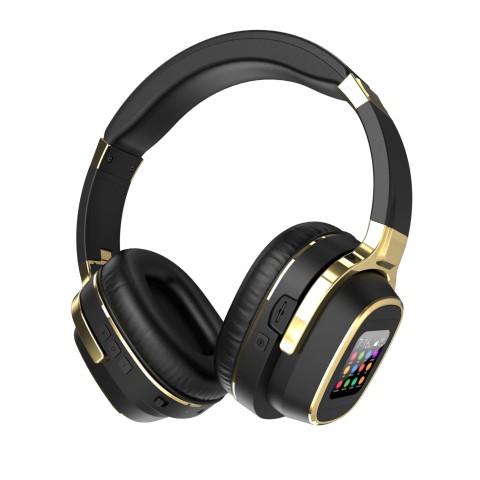 SYNC by Melady, a new headphone company, will be launching a crowdfunding campaign on its website June 19th, 2023 to bring its avant-garde smart wireless headphones to market. Unlike any headphones currently on the mainstream market, SYNC by Melady's headphones feature advanced technology and design that provide users with an immersive audio experience that is both convenient and comfortable.
The SYNC by Melady headphones caters to diverse lifestyles, including athletes, audio producers, travelers, online gamers, audiobook listeners, and tech enthusiasts. With internal memory ranging from 16GB to 64GB, users can store a large number of audio files and switch between playlists seamlessly. These headphones also feature noise-cancellation technology, making them ideal for audio producers. Access to the Android Marketplace allows users to download a variety of audio-related apps.
The headphones have an astounding battery life of over 30 hours is perfect for extended use in travel and long flights. Bluetooth and WiFi capabilities ensure seamless connectivity with other devices, while the external speaker feature lets you share your audio experience with others. Finally, the SIM card slot allows for standalone use, making it a convenient accessory for those on the go.
"SYNC by Melady headphones offer a holistic design that is lightweight, durable, and comfortable, allowing users to get lost in their audio and engage in the experience," said Courtland White, CEO of SYNC by Melady. "Our headphones are perfect for anyone who wants to enjoy their favorite audio files, surf the web, and forward their calls on the go, even when disconnected from their cellular device."
The story behind the product and the company is as inspiring as the headphones themselves. It all started with a dream inspired by Courtland White, a young college student from an HBCU in Jackson, Mississippi, titled "THEE Jackson State University." As an entrepreneurship major, Courtland created the vision for the SYNC by Melady headset, and his brother Christopher White, an engineering graduate from Prairie View A&M, engineered the smart device. Courtland's participation in the Nation's FIRST HBCU Foreign Exchange Business program from Jackson State allowed him to attend HoHai University in Nanjing, China, where he created the first SYNC by Melady headphone prototype.
SYNC by Melady is on a mission to bring its innovative headphones to consumers everywhere. The company's crowdfunding campaign will be live on its website, where backers can pledge their support and pre-order the headphones at a discounted price.
"We're excited to introduce our revolutionary headphones to the world and are grateful for the support of our backers," said White. "Our headphones are the future of audio technology, and we can't wait for users to experience them for themselves."
Watch the official product video of SYNC by Melady headphones: https://www.youtube.com/watch?v=150xfYy_WU4
About SYNC by Melady:
SYNC by Melady is a headphone company founded by Courtland White. The company's mission is to create a holistic audio experience for all lifestyles, providing advanced technology and design that are both convenient and comfortable.
For more information about SYNC by Melady, visit www.syncbymelady.com
Media Contact
Company Name: Melady, Inc
Contact Person: Courtland W. (CEO)
Email: Send Email
City: Houston
State: Texas
Country: United States
Website: SYNCbyMelady.com