The First Artificial Intelligence Book to Champion the Personality Quirks of History's Greats Launched
The new book Quirks has been created by Fortune 500 Creativity Consultant.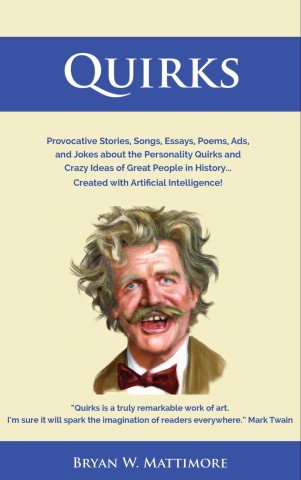 Fortune 500 Creativity Consultant has created Quirks that uses AI-generated essays, songs, ads, poems, and jokes to dimensionalize, in a creative and fun way — the personality quirks of famous historical figures.
In this groundbreaking book, innovation guru and award-winning author Bryan Mattimore takes readers on a journey through time to explore the unique personality quirks, and crazy ideas of history's most creative and influential people. Beginning each of QUIRKS' 40 chapters with a surprising but TRUE personality quirk from one of history's greats, Mattimore then uses artificial intelligence to create a fun and entertaining read by dimensionalizing this true personality quirk in a wide variety of creative formats.
Want to read an essay about Abraham Lincoln as a young, "trash talking" wrestler? How about a sonnet about Shakespeare being a big fan of cross dressing? Or a song about Edgar Alan Poe crowdsourcing the publishing of his first book of poetry with his fellow cadets at West Point? Or jokes about Mozart being a cat imitator? Or even an ad for Marie Curie's (deadly as it turns out) radium nightlight? All true and brought to life courtesy of creativity consultant Bryan Mattimore, and Artificial Intelligence programs.
Do you wish you could photograph thoughts on the retina of the eye, as Tesla once tried? Is it a crazy idea that Alexander Graham Bell tried to teach a dog to talk by manipulating the dog's pharynx when it growled? Or taking naked air baths as Benjamin Franklin did. Were our great creators in history brilliant – or just plain nuts?
Or maybe more likely, it was their "quirkiness" that helped them discover new creative possibilities – and ultimately their own creative genius?
"I believe that the admittedly quirky – but also entertaining — content in QUIRKS is wonderful training for anyone who wants to be more open, curious, and creative," says Mattimore. "And I think using generative AI programs is a fun and entertaining way to promote this creative openness. "
Much of the recent press on generative AI programs has focused on their downside: that they might promote a lack of original thought, "plagiarism," the acceptance of content inaccuracies, etc.
But as Mattimore points out in QUIRKS, these AI creativity programs also have the potential to be tremendous instructional tools to accommodate different learning styles and preferences.
Because AI content creation programs now make it easy to create and present ideas and information in so many different creative formats: in essays, stories, songs, ads, poems, even jokes… it's become that much easier for leaders and teachers to generate more compelling and memorable, creative learning experiences for their constituencies; whether in school, in business, or government… and in the process make learning more effective… and fun!
Bryan Mattimore is co-founder of the 23-year-old Stamford, CT innovation agency The Growth Engine Company; and an award-winning author of five books on business process innovation including Idea Stormers, How to Lead ad Inspire Creative Breakthroughs, and 21 Days to a Big Idea.
To learn more contact the Chief idea Guy at The Growth Engine Innovation Agency, Bryan Mattimore at [email protected]
His innovation agency has helped create over $3 billion of new product successes for his clients; and tens of thousands of business professionals, educators and governmental officials have attended his creative thinking keynotes and Ingenious Problem Solving workshops. Bryan is also an innovation and marketing instructor in the Executive Education Department at Caltech.
Quirks debuted on Amazon this week.
Media Contact
Company Name: The Growth Engine Innovation Agency
Contact Person: Bryan Mattimore, Chief Idea Guy
Email: Send Email
City: Stamford
State: Connecticut
Country: United States
Website: growth-engine.com