Embark on a Thought-Provoking Adventure in 'Drown to Live' – A Masterpiece Written by a Power Couple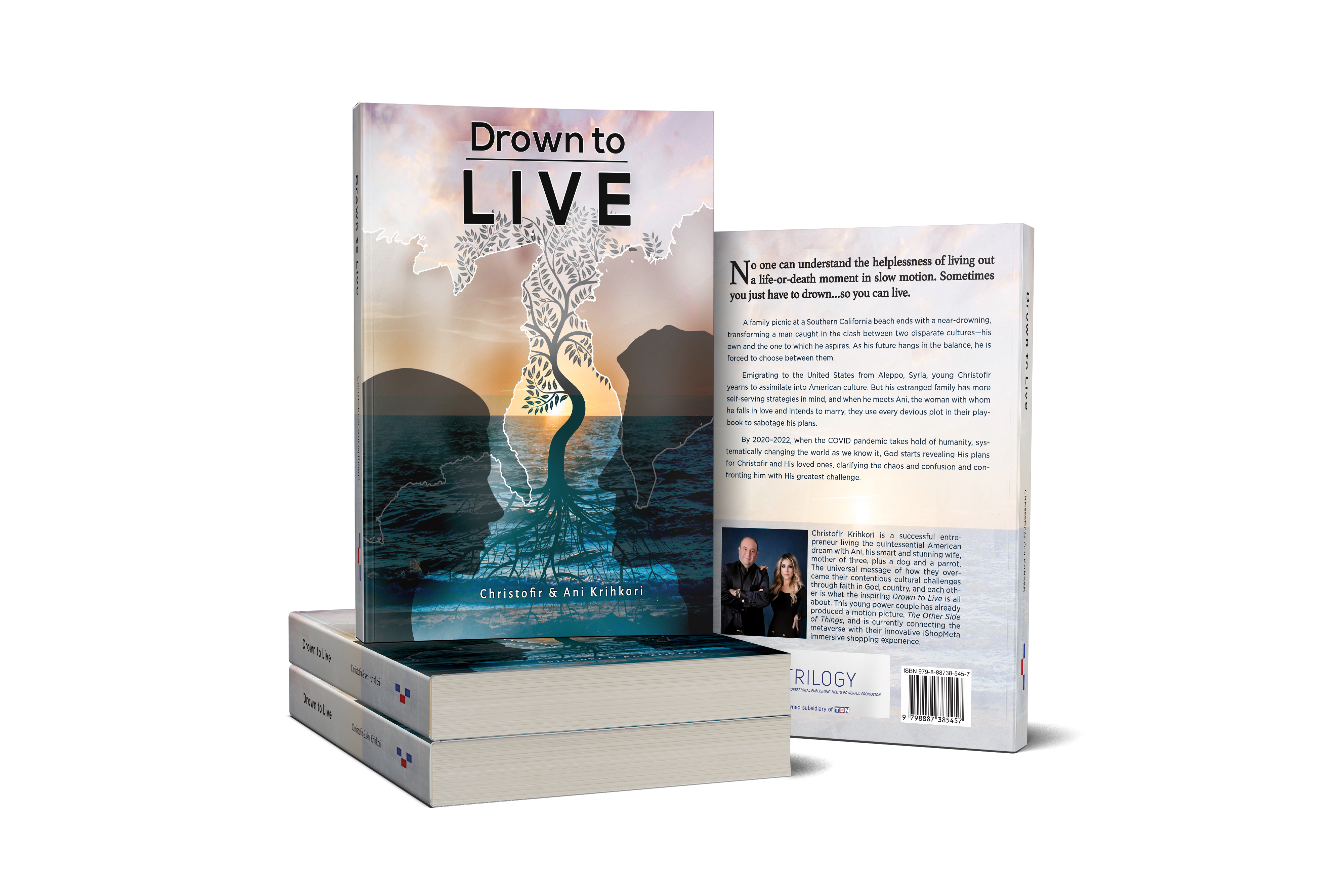 The book uncovers the power of perseverance, giving readers a timeless tale of cultural differences and the hope that the magnitude of one's will to push through determines the size of their rewards in life.
Introducing Drown to Live, a thought-provoking novel exploring the complexities of cultural differences and the struggles of finding one's truth. Written by a successful power couple, Christofir and Ani, this book tells the story of a young man's journey to assimilate into American culture while navigating the obstacles and challenges posed by his family and society. The COVID pandemic serves as a backdrop, highlighting the importance of faith and love in shaping one's future – pushing through even when tomorrow is a blur.
The protagonist and co-author, Christofir, is a young Armenian immigrant from Syria with ambitious dreams of achieving the American Dream. He falls in love with Ani, a smart and strong woman whose qualities of vulnerability, authenticity, and deep truth-spoken power inspire and empower everyone around her. However, societal norms and peer pressure keeps coming between them and Christof's desire to live the American Dream with Ani.
The book dives into the couple's struggles while pushing through the challenges coming their way. The family dynamic plays a central role in the story, with Christofir's estranged family using devious tactics to sabotage his plans. But through faith in God, the couple overcomes these obstacles and finds a sense of purpose in their lives.
Drown to Live is not just a story about cultural differences but also delves into the more profound question of "What is Truth?" The authors explore the concept of truth and the importance of having authority in one's life, especially during times of uncertainty and change. The bleak period of COVID pandemic serves as a reminder of the fragility of life and the need to hold onto what truly matters. Some of the highlights of this masterpiece include:
1) Themes of resilience and perseverance – The story of Christofir and Ani is a testament to the human spirit's ability to overcome obstacles and challenges, no matter how insurmountable they may seem. The themes of resilience and perseverance are woven throughout the book, making it a source of inspiration for anyone who needs a reminder that nothing is impossible with faith and determination.
2) Cultural richness – The cultural differences and clashes depicted in the book are thought-provoking and bring a rich tapestry of cultural diversity to the story. The authors have successfully captured the essence of different cultures and brought them to life, making the story accessible and relatable to many readers.
3) A visual feast – The vivid descriptions and imaginative storytelling in Drown to Live paint a picture in the reader's mind, creating a visual feast that is sure to captivate and engage. The rich sensory details and imaginative storytelling bring the story to life and make it a feast for the senses.
4) A timeless tale – The universal message of hope and perseverance in Drown to Live is timeless, making it a story that will resonate with readers for generations to come. The themes of love, faith, cultural differences, and not giving to one another and their dreams are as relevant today as they have ever been, making the book a must-read for all ages.
5) A life-changing experience – Reading Drown to Live is more than just an entertaining experience; it is life-changing. The thought-provoking story and powerful themes will indeed challenge readers to reflect on their beliefs and life choices, making it a book that will stay with them long after they've finished reading it.
With the official release date set for March 13, 2023, readers can get their signed copy today from the website directly. Get ready to be inspired, challenged, and captivated as you delve into the story of Christofir and Ani and discover the universal message of hope, perseverance and being in control of one's truth in the face of adversity.
About Christofir & Ani
Christofir Krihkori is a successful entrepreneur living the quintessential American Dream with Ani, his smart and stunning wife, mother of three, plus dogs and a parrot. The universal message of how they overcame their contentious cultural challenges through faith in God, their country, and each other is what the inspiring Drown to Live is all about.
This young power couple has already produced a motion picture, The Other Side of Things, and is currently connecting the metaverse with their innovative iShopMeta immersive shopping experience.
About The publisher, The Trinity Broadcasting Family of Networks
The amazing journey that started over 44 years ago, continues on with renewed strength and vision. The Trinity Broadcasting Family of Networks is blazing a trail worldwide, with fresh, innovative programs that entertain, inspire, and change lives. In addition to the 8,000 cable and satellite affiliates that reach over 100 million homes across America and every inhabited continent, the TBN Family of Networks will continue to aggressively expand their reach as they deliver content across all social media and digital platforms.
Media Contact
Company Name: The Trinity Broadcasting Family of Networks
Contact Person: Christofir Krihkori
Email: Send Email
Country: United States
Website: www.DrownToLive.com