3TREES Successfully Held 2022 Cross-straits Bicycle Ride on Meizhou Island
The 2022 3TREES Cross-straits Bicycle Ride on Meizhou Island kicked off on the morning of June 26. With some 500 cycling fans from both sides of the strait joining the ride, the event deepened the cross-strait exchanges in sports, culture and tourism.
Meizhou Island, the hometown of the "Goddess of the Sea" Mazu, is famous for its Mazu culture and coastal scenery. The island has a land area of 14.35 square kilometers and a rich reserve of high-quality coastal tourism resources. With a coastline of 30.4 kilometers, including 13 golden beaches extending 20 kilometers in length and 5 kilometers of sea-eroded geomorphic features, the island is home to more than 30 scenic spots of various kinds.
The event aims to advance the national fitness campaign and promote a low-carbon lifestyle. In recent years, Meizhou Island has actively implemented the national fitness for all strategy, carried out a range of national fitness activities with island features to promote people's health, further deepened the integration of "tourism + sports" concepts, fostered a healthy trend of "promoting tourism development with sports and improving sports performance with tourism", and motivated the participation of the people in fitness activities.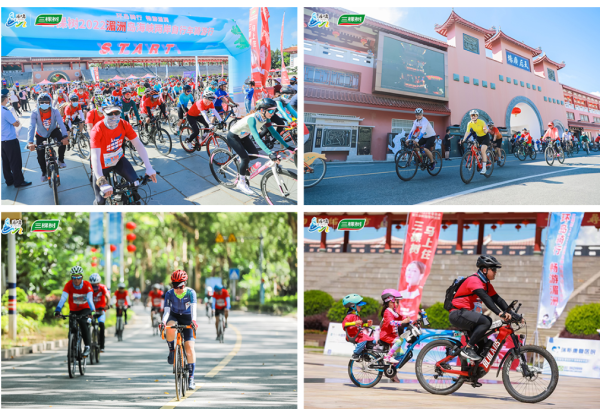 Zhu Qifeng, Vice President of SKSHU Paint Co., Ltd.("3TREES", came to the live studio with the 3TREES mascot SEN, and joined the netizens in a lively discussion. During the live-streaming, Vice President Zhu explained the origin of the name "3TREES", which can be traced back to the company's core culture, "Imitation of Nature". The number "3" is derived from the teachings of Lao Tzu's Tao Te Ching, which says "Tao produced one; one produced two; two produced three; three produced all things", meaning sustainable development. The word "tree" represents health, green and environment, and also creates the image of an evergreen tree. 3TREES is committed to the research and development of healthy and odorless products. Its odorless indoor coating series helps preserve a fresh and healthy home environment; while its exterior wall coatings, which are consistent with the target of green energy-saving buildings, feature reduced stone use and mitigated damage to nature, thus achieving the goals of resource conservation, low-carbon growth and environmental protection. 3TREES's corporate mission of "making homes healthier, cities more beautiful, and life better" and its CSR concept of "Respect Nature and Care for Compatriots" are also in line with the spirit of universal love and common good represented by Mazu.
Healthy products are created by healthy people. 3TREES pursues a culture of health, which encourages employees to build a strong body and a healthy mind through physical exercises. This gives them energy and ability to create good products. 3TREES cares about the health of the people, and endeavors to provide high-quality healthy products for them. It has launched the industry's first health+ standard, and put it through constant upgrade and iteration, which makes it stricter than many frequently cited international standards.
Speaking of the affinity between 3TREES and sports, Vice President Zhu was more than excited. According to him, 3TREES has participated in the construction of more than 10 Winter Olympic venues and supporting projects. 3TREES paints have been used on the helmets worn by the athletes and the medals of the Winter Olympics. Plus, we have signed brand endorsement contracts with Winter Olympic champions Wu Dajing and Gu Ailing and the Chinese short track speed skating national team, who won 4 gold, 2 silver and 1 bronze medals during Beijing 2022 Olympic Winter Games. In the meantime, 3TREES hopes to do a better job in bringing Chinese brands and China's smart manufacturing to the world through technological innovation and service upgrade, so that we can also compete for championship in the international arena of coatings and strive to become a leading coatings brand in the world. We hope that 3TREES and the 3TREES associates will be motivated by the
By supporting the development of sports and meeting the demand for high-level and high-quality services in sports events, 3TREES is constantly aiming for the upgrade of technologies, and striving to develop more professional and healthy products, give back to the society with better services, and deliver a better life to consumers.
The event was covered by 15 media outlets, including People's Daily, China News Service and Fujian Daily; and live-streamed simultaneously on 13 platforms, such as the CCTV mobile, Bilibili, Bamin Live, and V1, attracting some 2,414,600 views in total.
The success of the 2022 3TREES Cross-straits Bicycle Ride on Meizhou Island not only provided an opportunity for the cyclists and online viewers from both sides of the strait to experience the folk customs of Meizhou Island and feel the charisma of the sacred Mazu culture, but also lent new impetus to cross-strait exchanges and the development of the cultural tourism industry of Meizhou Island. More importantly, the event allowed more people to understand and appreciate 3TREES's green genes. As the saying goes, "Never forget why you started your journey, and keep fighting for your dream". Going forward, 3TREES will continue to keep up with the trend of the times, follow the path of green development, improve the quality of people's lives with high-quality green products, and provide consumers with "more environment-friendly, more quality, and more convenient" home furnishing solutions. We will apply green products to the whole process of green construction, and create truly green and high-quality buildings to achieve high-quality sustainable development in all aspects of our business.
Media Contact
Company Name: SKSHU Paint Co., Ltd.
Email: Send Email
Phone: +86 0594 2761989
Address:Headquarter: 518 Liyuan North Avenue, Licheng District
City: Putian
State: Fujian, 351100
Country: China
Website: https://www.3treesgroup.com/en/