Industry Veteran Carol Gigliotti Joins Pool Magazine As Director of Marketing and Sales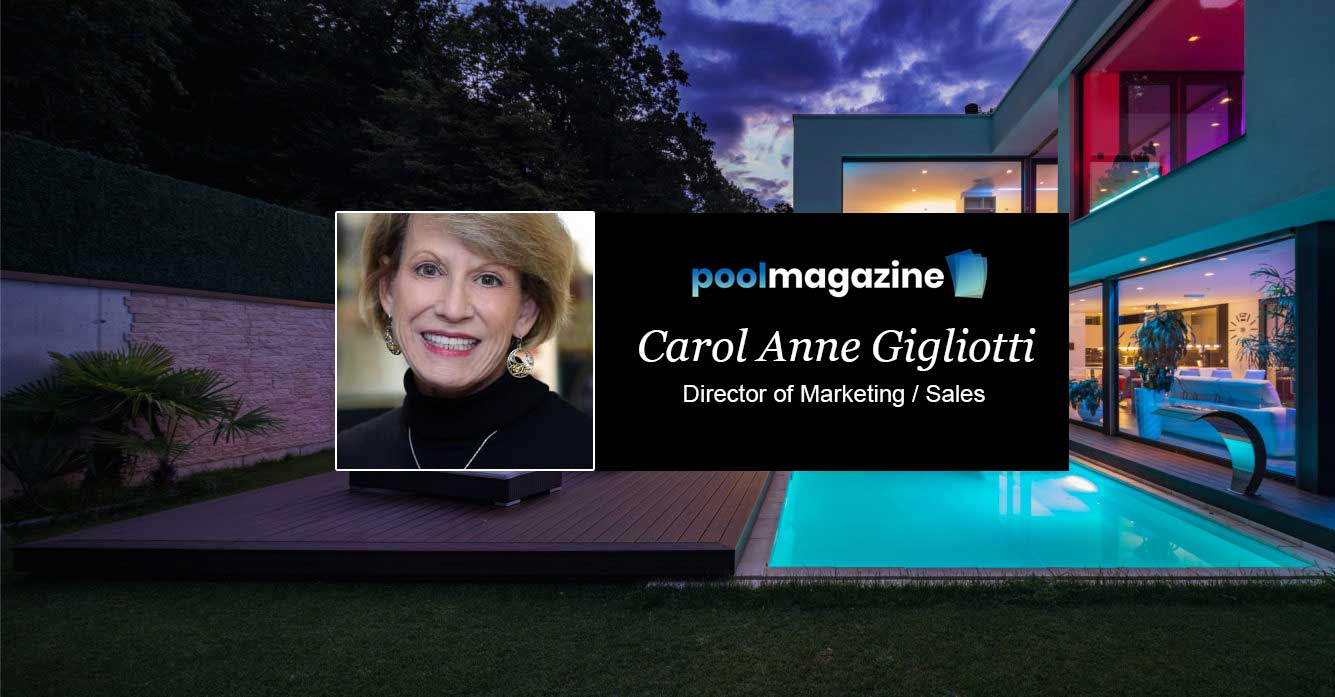 "We've been looking for a person of Carol's caliber for quite some time. Her presence in this organization will be a game-changer."
– Joe Trusty, Pool Magazine Editor
June 16, 2021 – Pool Magazine is pleased to announce that industry veteran, Carol Anne Gigliotti, formerly of Luxury Pools + Outdoor Living, will now be part of the Pool Magazine team. Carol's contribution as Director of Marketing & Sales will be a valuable asset to the new publication.

"We've been looking for a person of Carol's caliber for quite some time. Her presence in this organization will be a game-changer", says Pool Magazine editor Joe Trusty.

Carol brings with her years of experience and expertise in the swimming pool industry, creating a force multiplier for the team at Pool Magazine. With the influence they carry, along with inclusion in the Pool Marketing Network of B2C and B2B web properties, expanding the resource platform by bringing in someone of Gigliotti's knowledge base and the experience was appropriate. This is unmistakably a strategic move on behalf of the team to secure a better future for the magazine.

"As we move forward with pushing PoolMagazine.com from a digital publication to a printed one, Carol will be at the helm driving much of the initial strategy, direction, and overall look and feel of our new publication. We look forward to her contributions in helping make this a world-class magazine", says a spokesperson for Pool Magazine.

The team at Pool Magazine is set to launch and distribute the premier publication of Pool Magazine at the International Pool & Spa Expo in Dallas this November 2021. Brand-new Director of Marketing & Sales, Carol Gigliotti, will no doubt attend the event.

"I am pleased and excited to be joining forces with the dynamic, progressive, and talented team at Pool Magazine. We look forward to our potential together as we bring our passion and ongoing commitment to serve this great industry, to new heights", says Carol Anne Gigliotti, Director of Marketing & Sales for Pool Magazine.
Pool Magazine is a minute news source for swimming pool news and pool features. The internet-based publication is a culmination of pool industry news and consumer-facing pool news in one package. The goal of Pool Magazine is to provide its readers with the latest pool news along with ongoing information, trending products, and featured stories relating to the pool industry.
For more information, please visit https://www.poolmagazine.com.
Media Contact
Company Name: Pool Magazine
Contact Person: Alise Everton
Email: Send Email
Address:PO Box 278
City: Pilot Hill
State: CA 95664
Country: United States
Website: https://www.poolmagazine.com