A Frightening Tale of a Young Goth, and a Devil from the Deepest Pits of Hell, Available On Amazon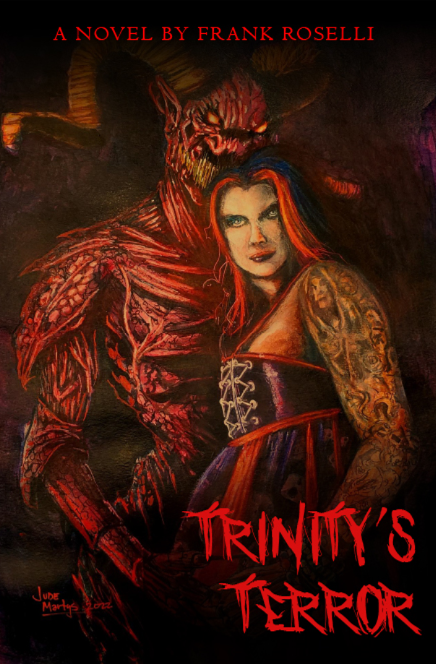 New Jersey, USA – Prolific author Frank Roselli has released another classic horror, "Trinity's Terror", which follows Trinity's fresh start in a brand new city. But her life changes drastically for the worst when she finds herself in the clutches of a demon from hell. This horror novel is designed for those who ache for the spine-tingling worlds of supernatural entities and monsters.
In his latest release, available on Amazon, Frank has been noted to achieve again what he is best at – creating a grotesque and hair-raising horror novel that is bound to disturb the bravest of hearts. Her new apartment becomes problematic when Trinity finds herself being pleasured by an incubus in disguise. What starts out as mere dreams for the goth grows to become something demonically gruesome, unlike anything the rebellious young woman has ever gone through.
Frank Roselli discovered his passion for writing when he was just eight years old. Ever since then he has indulged in penning his crazy adventures – horror and sci-fi both – that originate in his mind. He condenses a sliver of his staggering imagination in all his stories, and hopes that someday, his works will find their way onto the big screen. Aside from writing novels and short stories, he also spends his time writing dark poetry for the horror-enthusiasts. Most of his mind-effing ideas have spawned from watching scary movies – it's one of his favorite things to do, being fond of horror himself. Frank Roselli has also published other horror novels, amongst which "The Devil's Daughters" and "Grace" are noteworthy and are available on Amazon.
Media Contact
Company Name: Frank The Mad Scribe
Contact Person: Frank Roselli
Email: Send Email
Phone: +18484489652
Country: United States
Website: https://www.frankthemadscribe.com/