Schlonda M, an experienced TV Producer and Content Developer who has gained a passion for fitness and beauty productions
Schlonda M, an experienced TV Producer and Content Developer who has gained a passion for fitness and beauty productions promoting 21training sessions with
[email protected]
, 3 day supply of meal replacements, 3 day revenge PLUS complimentary gift. Diet December will start on 12/5.
Schlonda is becoming a revolutionary in the health and fitness industry,She continues to stride in her journey while showing her audience her process of #REAL ups and downs. It is one of the many reasons why her story is so motivating to over 60,000 people, Schlonda created #TUNNELVISION MINDSET and took her health into her own hands—no shortcuts or quick fixes. The incredible work and real-life results she showed have allowed others to follow her journey. With over 64K followers on Instagram – https://instagram.com/schlondam
Come Join the Team Tunnel Vision community as we end the year with a Bang lets drop those pounds together workout with celebrity trainer
This year we are all making the stride together by making a 6 day commitment of doing 3-days of the Revenge Cleanse created by Kory Phillips and Mark Scroggins and 3 Days of Meal Replacements You will have a new body with visible results in 6 DAYS!!!
Revenge cleanse is a natural juice cleanse designed to flush toxins, improve digestion, increase energy and promote healthy Getting in shape. In a race to lose about 30lbs in just one month, you can try our Revenge Cleanse Detox and you need to follow a mentor who knows and understands tunnel vision. Schlonda M a proven fitness enthusiast who has helped a lot of persons shed more pounds in a short period.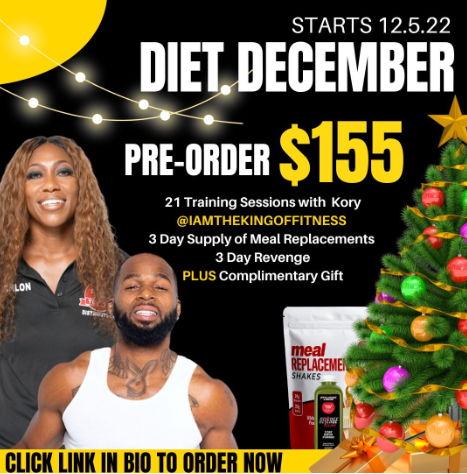 Stay fit, stay updated on our blogs and tap from the Tunnel Vision Mindset blog – a community focused on helping you achieve better health and wealth.
Schlonda is changing the game as a fitness influencer, Health and Wellness Coach, and Brand Ambassador for million-dollar health and fitness companies worldwide. Schlonda passion for healthy living and a healthy lifestyle has allowed her to change people's lives, make companies millions, and overall continue to inspire her fans with her journey!
SOCIAL MEDIA INFORMATION
Instagram: https://instagram.com/schlondam
Facebook: https://www.facebook.com/schlondam
YouTube: https://www.youtube.com/watch?v=Jmm90EQ_BZo
PRODUCT LINK
Revenge Cleanse link
https://teamtunnelvision.company.site/products/Diet-December-Training-Bundle-Pre-Orders-Only-p507191525
Media Contact
Company Name: Schlonda M
Contact Person: Media Relation Management
Email: Send Email
Country: United States
Website: https://instagram.com/schlondam