In the Garden: A 40-Day Journey of Hope and Healing by Nichole Fogleman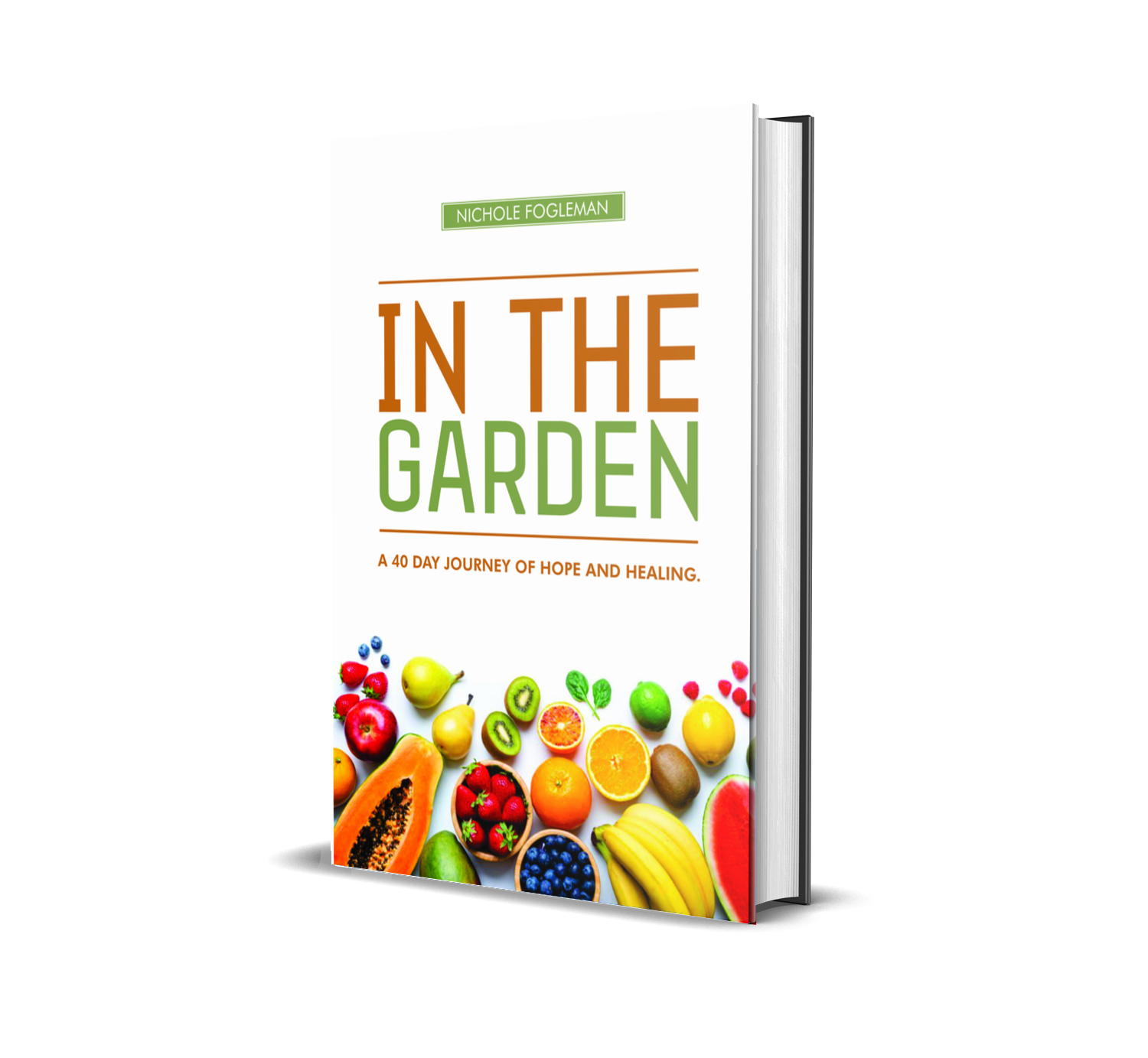 CHICAGO, Ill. – Kharis Publishing today announces the release of "In the Garden: A 40-Day Journey of Hope and Healing" (ISBN: 978-1637461747) by Nichole Fogleman.
"In the Garden" is a whole health approach that empowers and equips individuals to take charge of their health and spiritual well-being. The impact of chronic disease cannot be overlooked. Intractable pain causes anxiety, depression, and feelings of hopelessness. This book will help the individual take back control of their life using all three strategies of self management: diet, behavior management, and spiritual guidance.
You will be taken on a journey, 40 days into the land of fig trees, wheat fields, vineyards, and olive groves. With Deuteronomy 8:8 as the cornerstone verse leading this journey, author and health care expert, Nichole Fogleman will be your navigator. She will share:
Hope for Pain Diet plan
Daily tips for following a plant-based diet
Daily Food Journal
Leading scientific research in chronic pain
Daily bible study
Video Link: https://www.youtube.com/embed/brgYERKfEB0
According to ─ Rev Abbie D. Duenckel Author of the weekly blog www.luke8women.com, "In the Garden: A 40-day Journey of Hope and Healing is more than a journey of food and faith. It is a journey of heart, passion, and promise. Author, Nichole Fogleman, shares her knowledge on healthy eating along with her love for the Lord, her knowledge of Scripture, and her authentic heart. Taking the journey through this book is going on a journey with a knowledgeable guide, an encouraging friend, and a woman guided by the Holy Spirit to reflect her love for helping and loving others in our world. Along this journey, you learn from relatable real-life stories from the author as well as healthy life-giving food habits that are conveyed in a language that allows the reader to lose intimidation and with confidence believe this new method of plan based living is attainable. This book is love-giving and life-changing!"
"In the Garden" is published by Kharis Publishing and is now available wherever books are sold, including Amazon: https://www.amazon.com/dp/1637461747/ Retailers and other agencies may order copies from Ingram Content Group or through the publisher (ISBN: 978-1637461747): https://kharispublishing.com/kp/product/in-the-garden/
As an author, I've spent many years writing for, Hope for Pain, an organization created to help those suffering from persistent pain. Professionally I'm an advanced practice nurse in anesthesia. Serving people struggling with illness is near and dear to my heart. My journey with healing with food began after a family diagnosis of ADHD, but my adventures with Christ began way before I discovered the benefits of plants. Sharing these secrets with you have been my life's mission.
About Kharis Publishing:
Kharis Publishing, an imprint of Kharis Media LLC, is a leading Christian and inspirational book publisher based in Aurora, Chicago metropolitan area, Illinois. Our mission is two-fold: 1. Provide an innovative publishing platform for professionals, Christians, pastors, workplace leaders to tell their story and share in a book form what God has put in their hearts, with a focus on under-represented writers (including women and first-time authors); 2. Equip orphans in developing countries with literacy tools. That is why, for each book sold, the publisher channels some of the proceeds into providing books and computers to orphanages in developing countries so that these kids may learn to read, dream, and grow. For a limited time, Kharis Publishing is accepting unsolicited queries for nonfiction (Christian, self-help, memoirs, business, health and wellness) from qualified leaders, professionals, pastors, and ministers. Learn more at: https://kharispublishing.com/
Media Contact
Company Name: Kharis Media LLC
Contact Person: Rufus Philip
Email: Send Email
Phone: (630) 423-6309
City: Aurora, Chicago
State: IL
Country: United States
Website: https://kharispublishing.com/kp/product/in-the-garden/