Immunohistochemistry Market Size Worth $2.07 Billion By 2028, Driven By Rising Implementation of Automation And Machine Learning in IHC | Grand View Research, Inc.
According to a new report published by Grand View Research, the rising product approvals and the launch of technologically advanced immunohistochemistry systems for disease diagnosis are further propelling the immunohistochemistry (IHC) industry growth.
Immunohistochemistry Industry Overview
The global immunohistochemistry market size was valued at USD 1.28 billion in 2020 and is expected to reach USD 2.07 billion by 2028, expecting to expand at a compound annual growth rate (CAGR) of 6.2% during forecast period.
Increasing implementation of automation and machine learning in immunohistochemistry (IHC), coupled with the introduction of technologically advanced immunohistochemistry solutions, is expected to significantly drive the market throughout the forecast period. Advancements in IHC protocols have boosted its demand to a significant level in disease diagnosis. In addition, the rise in product approvals and the launch of technologically advanced immunohistochemistry systems for disease diagnosis are further propelling the market growth. For instance, in August 2021, the FDA approved Roche's VENTANA MMR RxDx Panel to identify dMMR solid tumor patients eligible for anti-PD-1 immunotherapy.
Gather more insights about the market drivers, restrains and growth of the Global Immunohistochemistry Market
The COVID-19 outbreak has adversely affected the market; however, key market players are undertaking initiatives to overcome the challenges posed by this pandemic. Several key players have shifted their business focus by introducing IHC products for COVID-19 research. For instance, in March 2021, Bio SB launched a novel panel of COVID-19 antibodies to detect the SARS-CoV-2 virus, its receptor, and cytokines by immunofluorescence and IHC on formalin-fixed, paraffin-embedded (FFPE) biopsies.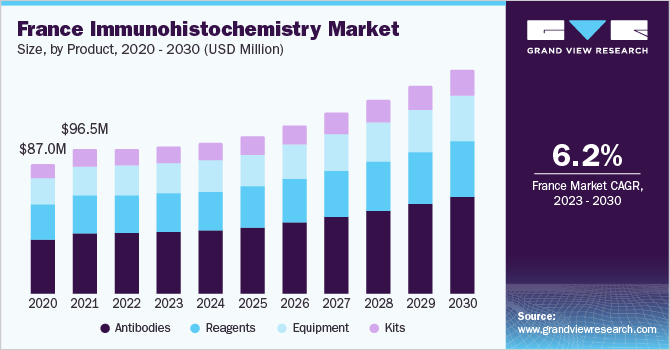 Companies continue to launch novel products to strengthen their market position, which leads to revenue generation. For instance, in March 2021, Roche launched the DISCOVERY Green HRP kit to detect and profile biomarkers and cell populations in tissue-based research. This kit can be utilized in combination with other detection kits, expanding the multiplexing capacity of in situ hybridization and immunohistochemistry.
IHC technology is limited to single parametric evaluations of a sample. Newer techniques such as multiplexed IHC, however, allow multiparametric and detailed analysis from a single tissue segment by utilizing advanced methods of mass spectrometric detection. Multiplexed IHC helps address the technical challenges posed by the labeled fluorescence detection-based method, thereby spurring the market revenue.
Immunohistochemistry Market Segmentation
Based on the Product Insights, the market is segmented into antibodies, equipment, reagents and kits.
The antibodies segment captured the largest revenue share of over 30.0% in 2020 owing to the vital usage of antibodies in disease diagnosis and drug testing. The monoclonal antibodies and antibody-related products such as Fc-fusion, antibody fragments, and antibody-drug conjugates have become the dominating product class in terms of usage rate.
Kits are anticipated to expand at the fastest CAGR throughout the forecast period. The use of kits reduces a lot of efforts during the IHC procedure as it eliminates the selection procedure for use of an appropriate combination of antibodies and stains against a tissue sample.

Based on the Application Type Insights, the market is segmented into diagnostics and drug testing.
The diagnostics segment accounted for the largest revenue share of over 50.0% in 2020 and is anticipated to maintain its lead over the forecast period.
Immunohistochemistry (IHC) tests are widely used for the diagnosis of a wide range of chronic conditions, such as cancer, cardiovascular diseases, infectious diseases, diabetes mellitus, autoimmune diseases, and nephrological diseases.
Rising R&D activities by pharmaceutical companies for research and development of innovative drugs are anticipated to increase the demand for IHC solutions and drive the segment.

Based on End-use Insights, the market is segmented into hospitals & diagnostic laboratories, research institutes and others
In 2020, hospitals and diagnostic laboratories accounted for the largest revenue share of over 50.0% owing to the high volume of IHC tests carried out in hospitals settings.
Research institutes are expected to register a lucrative CAGR during the forecast period. This is because the technique offers several advantages over conventionally used staining techniques in pharmaceutical R&D.
The growth can be also attributed to the wide adoption of IHC techniques in drug testing by research institutes. The technique allows the evaluation of biomarker distribution and localization and different protein expressions in varied biological tissue sections, which is conducted in research settings.
Based on the Regional Insights, the market is segmented into North America, Europe, Asia Pacific, Latin America, and Middle East & Africa
North America dominated the market in 2020 with a revenue share of over 45.0%. Key factors contributing to the regional market growth include the local presence of major market players, easy availability of IHC solutions, higher adoption of technologically advanced IHC instruments, and entry of newer IHC solutions.
Asia Pacific is expected to witness the fastest growth during the forecast period. This is primarily due to the expansion of the geographic footprint of the global players in the Asian markets.
A large patient pool in countries such as India and China provides a large number of clinical subjects to carry out IHC R&D assays, resulting in revenue growth.

Market Share Insights:
June 2021: PathAI, a U.S.-based developer of AI-powered technology for pathological applications, showcased a machine learning-based quality control tool, designed for HER2 testing in breast cancer, at the American society of clinical oncology virtual scientific program 2021.
January 2021: Biocare medical LLC launched the ONCORE Pro, a fully automated in vitro diagnostic benchtop system for in-situ hybridization (ISH) and IHC applications. Abcam and Shuwen Biotech (Shuwen) entered into a strategic alliance for developing and commercializing companion diagnostics (CDx).

Key Companies Profile:
The rising demand for IHC assays in cancer diagnostics, the key players are undertaking various strategic initiatives in the field of immunohistochemistry, including new product launches, mergers & acquisitions, and regional expansion, to meet the market needs.
Some prominent players in the global immunohistochemistry market include:
Thermo Fisher Scientific Inc.
F. Hoffmann-La Roche Ltd.
Merck KGaA
Danaher Corporation
Perkinelmer, Inc.
Bio-Rad Laboratories, Inc.
Cell Signaling Technology, Inc.
Bio SB
Agilent Technologies, Inc.
Abcam plc.
Order a free sample PDF of the Immunohistochemistry Market Intelligence Study, published by Grand View Research.
About Grand View Research
Grand View Research is a full-time market research and consulting company registered in San Francisco, California. The company fully offers market reports, both customized and syndicates, based on intense data analysis. It also offers consulting services to business communities and academic institutions and helps them understand the global and business scenario to a significant extent. The company operates across multitude of domains such as Chemicals, Materials, Food and Beverages, Consumer Goods, Healthcare, and Information Technology to offer consulting services.
Web: https://www.grandviewresearch.com
Media Contact
Company Name: Grand View Research, Inc.
Contact Person: Sherry James, Corporate Sales Specialist – U.S.A.
Email: Send Email
Phone: 1888202951
Address:Grand View Research, Inc. 201 Spear Street 1100 San Francisco, CA 94105, United States
City: San Francisco
State: California
Country: United States
Website: https://www.grandviewresearch.com/industry-analysis/immunohistochemistry-ihc-market