Pulse For Good Collects Anonymous Feedback from Vulnerable Groups
Pulse For Good kiosks enable tracking of service feedback among vulnerable populations
LOGAN – Organizations that provide services for vulnerable populations can now get anonymous feedback on their services thanks to a network of kiosks from Pulse For Good. This system not only tracks satisfaction but also collects data that can be used to improve organizations like homeless shelters, refugee shelters or old people's homes. The feedback platform is designed specifically to serve groups that rely on these organizations for services.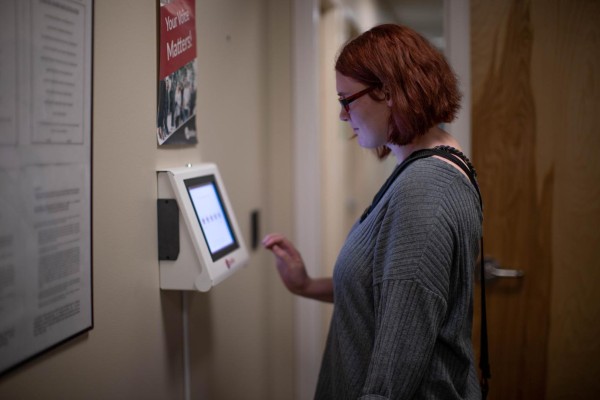 More often than not, vulnerable populations don't share service feedback anyone due to fear of retribution for critiquing the very organizations that they rely on. Vulnerable communities such as the homeless, domestic violence victims, the elderly and refugees are particularly worried about being identified and denied services in response to negative comments. Pulse For Good was born out of the efforts of six technology experts who wanted to create software that would make a positive impact on the world.
"On one hand, organizations need feedback from the vulnerable populations they serve so that they can improve their services. On the other hand, it's not unusual to find that these people are scared of giving feedback due to fear of retaliation from the organization," says Pulse For Good co-founder Blake Kohler. "The possibility of a negative reaction can easily discourage vulnerable populations from sharing honest feedback about the services they receive. We've combined our skills to create an anonymous reporting system that can help us identify how to better serve these vulnerable communities."
The team at Pulse For Good discovered that many of these vulnerable communities do not have easy access to the technology they need to leave this type of anonymous feedback. While there are many feedback platforms out there, few offer the option to remain anonymous. Even fewer offer the ability to leave feedback on a device that does not belong to the person leaving the feedback. Pulse For Good has developed a system that collects anonymous feedback and uses the results to identify where organizations need more funding or better systems.
With Pulse For Good's network of kiosks, vulnerable populations no longer need to worry about losing services as a result of their feedback on the organizations serving them. With the feedback from the Pulse For Good services, organizations can also identify what they can do better to leave a positive impact on the communities they serve.
About Pulse For Good
Pulse For Good is a social good company that facilitates anonymous client feedback for vulnerable populations such as those at homeless shelters or refugee camps. With their network of kiosks that allow community members to submit anonymous feedback, they encourage people to share their thoughts without fear of retribution.
Media Contact
Company Name: Pulse For Good
Contact Person: Blake Kohler
Email: Send Email
Country: United States
Website: https://www.pulseforgood.com/