Two Filmmakers Release NFT Collection to Fund Black Maternal Health Documentary
This unique collection of NFT's are being sold to raise awareness and to help finance the completion of the documentary film "High Risk: Black Mothers Protecting Themselves and Their Babies."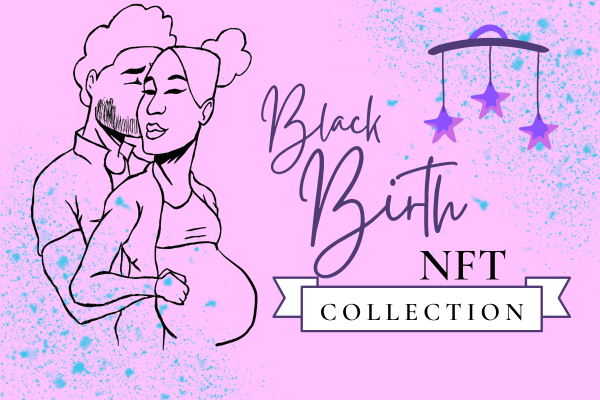 SAN ANTONIO – Jan 21, 2022 – When Black mothers are dying while giving birth at a rate three to four times higher than their white counterparts, it's time we start paying attention. Two filmmakers are bringing light to the topic in their latest documentary, "High Risk: Black Mothers Protecting Themselves and Their Babies." The documentary explores Black women's strategies for taking control of their maternal health to produce positive outcomes.
In an effort to raise the money needed to edit and complete the film for its 2022 release, the team has decided to release their own NFT collection. Non Fungible Tokens are not fully mainstream as of yet, but the amount of money and attention they garnered in 2021 doesn't seem to be slowing down anytime soon and these creatives are looking to take advantage of the craze.
The Black Birth Collection is a group of hand drawn and digitally produced pieces of art that will give supporters who purchase them unique perks and benefits. Some might not realize it, but NFTs have the potential to be more than jpeg images of monkeys. It is possible for the technology to provide real world utility.
"We had been struggling to raise money to secure the funds to complete the film and being a crypto enthusiast I figured this might be a good option for us," said Logic Allah, director. "NFTs are helping artists think outside the box for solutions. This documentary is important to us and we want to be as creative as we can to make sure Black women's voices are heard."
In the documentary, you will hear from birth workers who will help the viewer explore the legacy of Black birth, as well as discussion around how to make the healthcare system more accountable to African American women.
The NFT collection will be available to the public in January of 2022 and is hosted on the popular marketplace for digital collectibles, Opensea. With the goal of selling 80 tokens, the producers are encouraging potential supporters to visit their website to learn more.
About Melaneyes Media
Melaneyes Media is an independent film company based in San Antonio, Texas. The company is committed to providing knowledge-based Black culture films, projects and products relevant to the African diaspora.
To learn more, visit https://www.melaneyesmedia.com/
Media Contact
Company Name: Melaneyes Media
Contact Person: Born Logic Allah
Email: Send Email
Phone: 1 (210) 560-1733
City: San Antonio
State: TX
Country: United States
Website: https://highriskmovie.com/