GV Dupree To Launch Equity Crowdfunding Campaign Enabling Investors Profit Off Streaming Music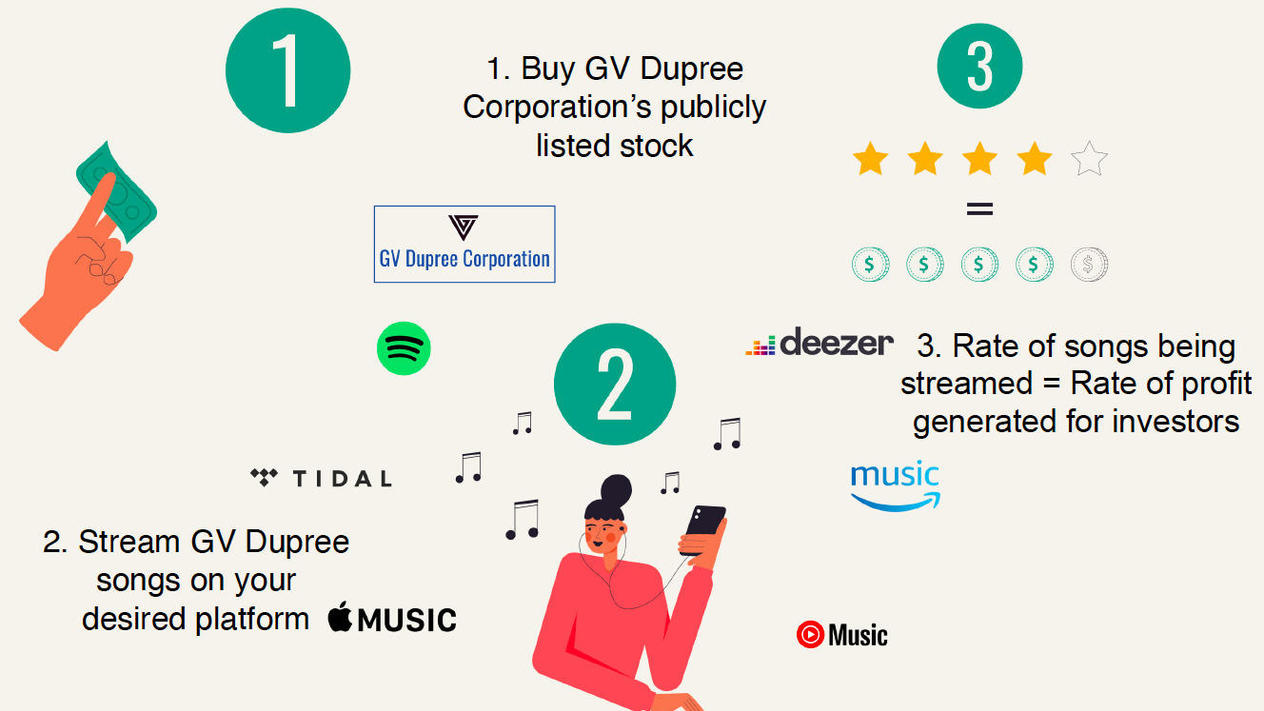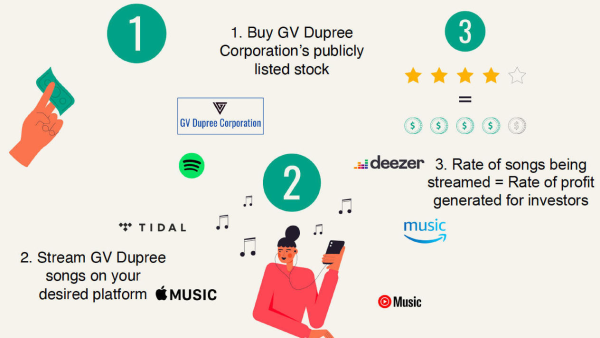 GV Dupree has announced that it will launch a crowdfunding campaign to raise equity for the company so it can be listed on the stock market. The move by the company will see investors make money from listening to music, as simply streaming any of the songs in the artist's portfolio will lead to stock growth.
Scheduled to launch on Monday, October 25th at 9 am, the crowdfunding campaign will help GV Dupree meet the stock market mandate that requires it to have 300 owners before listing. And investments into this one-of-a-kind business model start from as low as $100.
With its well-positioned patent, GV Dupree is set to benefit from growth driven by streaming in the global music market as the industry is expected to witness a CAGR of 8.5% through 2026, with a market opportunity estimated at a staggering $24.4 billion.
The company has also promised that the first $250,000 invested will benefit from a 409A employee discounted valuation cap. And the move also presents the opportunity for investors to occupy a career seat on the board of advisors for a Nasdaq listed corporation.
Described as a team of diverse individuals with deep financial, music, and technology expertise, GV Dupree is positioning itself for a 2022 Nasdaq SPAC listing with its valued $16,000,000+ annually IP assets leading the way.
The company also has a global distribution partnership with an affiliate of Ed Sheeran, Sam Smith, and Chance The Rapper.
GV Dupree's mission is to turn a generation of listeners into investors and is driven by a genre of defiant style with mass appeal.
Interested investors can simply visit the company's profile on Wefunder to get started, or sign up on the company website to stay updated with the latest on GV Dupree.
"GV Dupree is turning a generation of listeners into investors. As the only artist to soon be represented solely on the stock market, GV Dupree will soon allow listeners to buy stock and earn profit by streaming songs. The artist-turned-corporation is filling his portfolio with hypnotizing soundscapes that are almost impossible not to get lost in. Becoming more valuable by the day, GV Dupree marks the arrival of a new talent who will reinvent the music industry."
For more information, please contact below.
Media Contact
Company Name: GV Dupree Corporation
Contact Person: Gabriel
Email: Send Email
Country: United States
Website: https://gvdupree.com