Magnum Opus Graphic Novel, "Nebula Chase" to Set New Artistic Standards in Sci-Fi and Space Adventure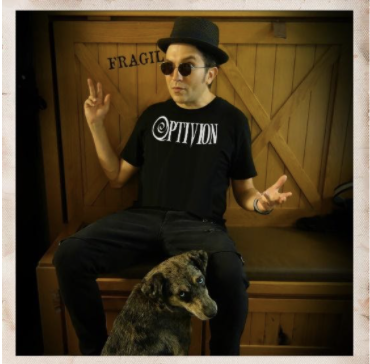 November 20, 2020 – S.A. Robertson a.k.a Optivion, the US-based graphic artist, musician, writer and DJ will be releasing his magnum opus space odyssey, "Nebula Chase" as a graphic novel accompanied by soundtracks. This interstellar adventure will comprise high-powered, booster graphics, a blend of retro and futuristic art, with plenty of carnage and intergalactic bloodshed.
Check out the awesome graphics and characters or "Nebula Chase" on Kickstarter: https://www.kickstarter.com/projects/nebulachase/nebula-chase
A 128+ graphic art novel, "Nebula Chase" is a marvel of daunting art printed with high-quality, and designed to bring out oodles of adrenalin in a thrilling space quest with wild scenes, characters, space ships, guns and more! The plot features a space rebel and his cosmic dog, who are fighting against mighty space enemies and monstrous bullies.
Optivion is launching his first art book on Kickstarter, accompanied by his best friend, Abilene, an Australian shepherd and mountain rescue puppy. The soundtrack of the comic will carry music inspired by its characters and plot scenarios, all independently scored and produced for the novel.
"Looks like it will be a touching and visually fascinating graphic novel!" – R.D Schwager, Ed.D.
"Extraordinary music and creative ideas, I recommend it automatically to anyone!" – Times Literary Supplement.
"Optivion is a great artist. Nebula Chase will be a science fiction masterpiece." – Noriko Tomi, FamilyMart, Japan.
Born in Atlanta, GA, Optivion spent portions of his youth living among a tribe in the Amazon rainforest. As a recording artist and musician, Optivion has been heard live at venues such as Burning Man, and across Tokyo's Japanese Live House scene. His works have been described as "electronic, ambient and alternative rock", with the presence of the mystic East, gear-driven West and new wave compositions.
"Nebula Chase" will be published in a Standard softcover edition, and a limited hardcover edition that will only be available on Kickstarter. A portion of sales will be donated to benefit rescued and abused dogs and cats via the Humane Society of the United States.
Secure the hardcover edition of "Nebula Chase", with shipping scheduled in April 2021: https://www.kickstarter.com/projects/nebulachase/nebula-chase
Media Contact
Company Name: Optivion
Contact Person: Rie Superchan
Email: Send Email
Phone: 7277817903
Country: United States
Website: https://optivion.net/