Thy Kingdom Come: Re-Evaluating the Historicist's Interpretation of the Revelation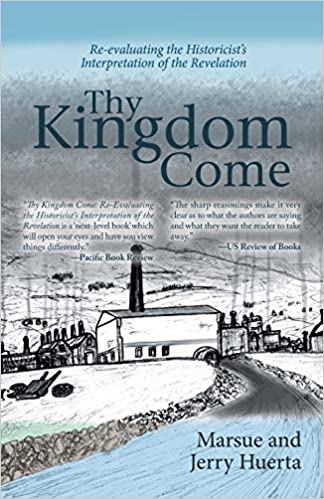 Marsue and Jerry Huerta's Thy Kingdom Come: Re-Evaluating the Historicist's Interpretation of the Revelation is a lifetime of study, work, thought and reflection boiled down into a single readable volume. The result is a book which shines new light on the meaning of the book of Revelation, and one which is waiting to be read by readers from all walks of life. With this in mind, we sat down with the couple to hear more about what they had to say.
"Thank you for taking the time to sit with us and hear what we have to say, it truly means the world to us. We'd like to start by saying that this book is the result of a personal and spiritual journey that we've been embarking on for what seems like an entire lifetime. Everything you'll read in our book has been thought out in great detail, agonized over more times than we care to remember and continually rewritten until we've got it just right. We hope that the end result justifies the journey we've been on by helping people see a new way forward."
It's intriguing when you hear authors talk about their work with such passion, so what's it all about?
"Historicism has a long and storied history with the book of Revelation, but we felt that the story has never been completely finished. The world around us has changed from the world of our ancestors, and what we now know and believe has changed with it. With this in mind, we thought it about time that the house of historicism received a much-needed renovation. And that's really the operative word in everything we've set out to do with this project: renovation. We hope that it makes it clear that we're not trying to demolish the house or board it up and move somewhere else for our grounding in scripture. It's more that we want to update our current way of interpreting the words which lay in front of us so that they fit with what we now know."
It makes a lot of sense when you hear them speak about it like that, which leaves us with just one last question: why now?
"We get asked that a lot, and we believe that it was in God's time, not ours. As we stated in the book, prophecy is revealed in hindsight and yet Historicism, when examined, has had little to add to the progressive history of the Church for over one-hundred years. We believe we have been led to fill that gap, coming to conclusions that more aptly reconcile history with the narration and symbolism of the book. Our hope is that our book will enable others to do the same in some small way."
Now that we understand the motivation behind the work we wouldn't hesitate to recommend it to anyone who is keen to re-evaluate how they view the world through the book of Revelation.
To get to know another way of looking at things, visit amazon.com and get your copy today.
Marsue and Jerry Huerta can be contacted for interviews and speaking appearances on the details below:
Website: historicist.net
Media Contact
Contact Person: Marsue and Jerry Huerta
Email: Send Email
Country: United States
Website: https://www.amazon.com/Kingdom-Come-Re-evaluating-Historicist%C2%92s-Interpretation/dp/1532062710/ref=tmm_pap_swatch_0?_encoding=UTF8&qid=1596166098&sr=8-1